There are many ways to watch birds. Do we just watch the birds seen through the back window? Maybe not even worry about how they have been named or classified? Do we make plans to learn where certain wood-warblers have been seen and then carry out miniature private expeditions to find them? Maybe some of us venture into the pre-dawn of the marsh to meet the rising of a sun flecked with the silhouettes and calls of whistling-ducks. Some of us might even go much further afield, taking boat trips straight into the open ocean to reach the deep waters, the places where pelagic birds might wander into view. We may also travel to other continents to see birds, take multi-day trips to witness as much of what the avian world can offer.
Birding is birding is birdwatching no matter how you do it but it's OK to prioritize some species. To be honest, when traveling, it would be a shame not to make efforts to see birds not possible in other places. These are the endemics, the very near endemics, and the species that are just easier to see at one place than another. In Costa Rica, we have several such birds, one of them is a woodpecker.
The Golden-naped Woodpecker is as smartly dressed as its name sounds.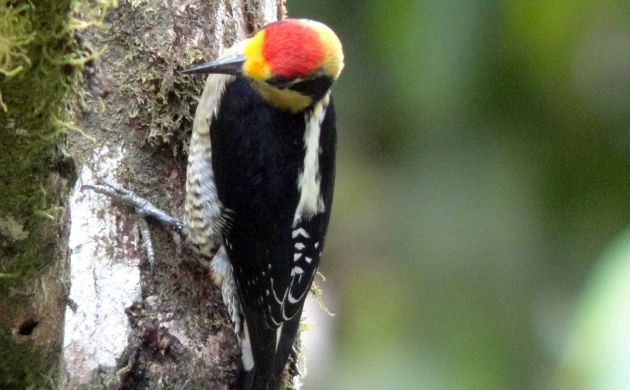 Although this species also lives in western Panama, it is quite nearly restricted to the humid forests of southern Costa Rica. Ranging from Carara National Park to the border, seeing it in Panama seems to typically require a rather difficult trip to the last sizeable patch of lowland rainforest in western Chiriqui.
In Costa Rica, although it is readily seen in many places, it also seems to be more or less restricted to areas of mature rainforest. It can range into second growth but in my experience, for the most part, the Red-crowned Woodpecker takes its place in such edge and open habitats.
As with many of the southern Pacific endemics, the Golden-naped Woodpecker seems to be most common in the forests of the Osa Peninsula and Golfo Dulce. It can be seen elsewhere but is certainly most frequent in places with the highest amounts of rainfall and is likely declining because of hotter, drier weather.
Although it takes the place of the Black-cheeked Woodpecker in the rainforests of the Pacific slope, the Golden-naped might even be more closely related to the Yellow-tufted Woodpecker of the Amazon. Or, more likely, it and the closely related Beautiful Woodpecker of Colombia are sort of "bridge" species between the Yellow-tufted and Black-cheeked. No matter what its evolutionary provenance may be, like the Black-cheeked, the Golden-naped Woodpecker does the photographer a favor by visiting fruit feeders as well as foraging in low fruiting trees.
Check this bird out on your next visit to Costa Rica, it's definitely one that you don't want to miss!